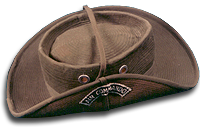 The Planes of Fame Museum
The Planes of Fame Museum (Air Museum-Chino, CA), oldest in the west, will have an Air Commando/Special Operations (AC/SOF) Day on the first Sat in March 2003 from 1000 to 1400 hours. They have a monthly education series of a particular aircraft in the Museum and have pilots/aircrew, who flew these aircraft, talk to visitors to the museum about their personal experience and inside stories of the aircraft and a Museum aircraft, if available, would be on hand to give the listeners an appreciation of the aircraft. About 500 people normally attend these events. To draw people to these monthly shows they normally have some type of raffle afterward and the winner get a 30-minute ride in a Museum Warbird. They have proven very popular drawing people from the Los Angeles area. Since we have an Air Commando/Special Operations display at the Museum it fits in well with the monthly show. In our case they would like Air Commando pilots/aircrew from a number of our planes to speak about the aircraft as outlined above. They have most of the AF/SOF in their inventory.
I am looking for Air Commando/Special Operations pilots/aircrew to volunteer to speak to the public at the Museum, on 1 March 2003, about their historics in a particular aircraft we had in the AC/SOF fleet. Please call me at 909-930-5700 work or 909-591-7342 home or email me at aircommando1@earthlink.net.
The Museum was founded by Ed Maloney (current curator) about 46 years ago. Steve Hinton, world famous pilot is the President of the Museum. I talked to Steve today and he told me that he has over 9000 hours flying time and most of it in the WWII aircraft and a number of jets. He never attended a military pilot training program. He has flown almost all of the WWII aircraft except the C-46, Helldiver and the B-29. He has flown the German ME109 and 108, the Japanese Zero, the Northrop Flying Wing, the F-86, T-33 and others. He is a famous movie pilot having participated in the TV series BaaBaa Black Sheep, the movie Pearl Harbor etc. Whoever shows up I will try and have you introduced to him (the Steve Canyon of the area) if he is on site that day. 
The following is a bio of Steve and a little history of the Museum.
1. Planes of Fame
2. Steve Hinton Bio
3. Steve Hinton Aerial Highlights