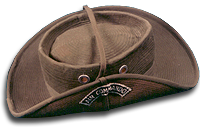 Yank
The Army Weekly
Pan-american Edition
Vol 1, NO 35
May 5, 1944
Cost 5 cents
Landing in Burma with Cochran's Air Commandos
By Sgt Ed Cunningham
Yank Staff Correspondent
Behind Japanese Lines in Burma—Coasting down by moonlight onto an abandoned rice paddy, 150 miles behind Jap lines in the very center of enemy-occupied Burma, glider-borne U.S. Air Commandos carried out one of the most daring all-aerial operations in history. The American-piloted gliders, carrying U.S. airborne aviation engineers and a protecting British forces of the famous Wingate's Raiders, landed in a jungle clearing that was rutted by buffalo bogs and elephant footprints and strewn with massive teakwood logs.
Twenty-four hours later the rice paddy was one of the world's busiest airstrips. Working all night and all day with engineering equipment flown in by gliders, the U.S. engineers constructed a graded well-lighted runway for U.S. and RAF transport planes. These transports landing at night, in turn unloaded hundreds of Wingate's jungle troops, together with pack mules, light artillery and supplies.
That schedule was continued for the next five nights without the loss of a single transport plane. The airborne delivery saved the forces of Maj. Gen. Orde C. Wingate a two-month march through the jungles and put them squarely astride the Jap's chief lines of communication in Northern Burma. (Wingate himself was later killed in a Burma plane crash.)
The all-aerial invasion was conceived by Gen Henry H. Arnold, chief of the U.S. Army Air Forces, and planned by two young American fighter pilots whose instructions from the general were to "start dreaming." They did. The result was an invasion plan that made Buck Rogers look like Colonel Blimp.
The invasion planners were Col. Philip G. Cochran, 34-year-old Erie (PA.) pilot, who is the real-life Flip Corkin of Milton Caniff's comic strip, "Terry and the Pirates," and another famous combat pilot whose name may not be disclosed. Close friends since their flying-school days, Cochran and the other airman were naturals for the job of CO and deputy of the new Air Commando Force. Both loved a fight; both believed firmly in the value of daring, unorthodox air tactics.
Cochran's Commandos hit the Japs just where they never expected to be hit-right in the middle of their own back yard. They did it with an integrated striking force that included seven types of aircraft, all regular components of the Air Commando Force. Gliders, towed by C-47s, brought in GI engineers with midget equipment to build an airstrip; single-engined C-64 supply ships and tiny L-5 reconnaissance planes came next; a fleet of C-47 troop carrier planes followed the next night with reinforcements.
Cochran protected his enemy-encircled landing party by daily bombing of nearby Jap airfields, beating them to the punch for seven days before they finally managed to organize a straffing attack against the new U.S. airstrip. His P-51 fighter-bombers carried a 1,000 pound bomb under each wing, the first time a single-engined plane has attempted such a heavy bomb load. Other P-51s carried 200-foot cables with weight attached; these planes swooped low over Jap telephone and communications lines, hooked their dangling weights on the wire and ripped off several hundred feet at a time. The trick was first used by Cochran himself in North Africa.
Even the B-25 bombers of the Air Commando Force were flown by former fighter pilots, who peeled off as if they were handling P-51s to dive-bomb and strafe at treetop levels. Later Cochran stationed several of his fighter planes at the new airstrip to beat off enemy air attacks.
The first two gliders encountered Jap ack-ack while being towed to their objective, a flight that took the across the 7,000-foot Chin Hills and the Chindwin and Irrawaddy Rivers. With only the moonlight to guide them, the gliders coasted in blind onto a strange field, obstructed with ruts, logs and a large tree in the very center. Each glider carried tough British assault troops as a defense against Jap ground attack.
Maj. William H. Taylor of St Louis, MO, glider unit CO, piloted the very first ship to land, with T/Sgt Perry L. Garten of Kansas City, MO, line chief of the glider ground crews, as his co-pilot. The second glider was piloted by 2nd Lt Neal Blush of Whitefish, Mont., with Cpl. Hohn Kinner of Iron River, Mich., as co-pilot. By the light of smudge pots carried in the gliders, they set up an electric lighting system to guide in other planes arriving later. Meanwhile British patrols pushed deep into the surrounding jungles on the lookout for hostile forces.
As additional gliders coasted in, their pilots had to hurdle them over teakwood logs and buffalo bogs that suddenly loomed up in the way. Several accidents resulted, but only two caused severe casualties; the American and British dead were buried after a Burmese chaplain conducted funeral services. Many gliders had to make 360-degree turns at almost treetop level to avoid hitting the disabled gliders on the over-crowded field.
In one freak crash, a glider coasted directly between two trees, less than 10 feet apart, shearing off both wings. A large piece of equipment that the glider was hauling intended for the airborne engineers, was ton loose from its moorings.
The machinery hooked into the corner brace of the glider's movable nose, forcing it to unlock and throwing the nose into the air. Then the 4195 pound piece of machinery hurtled out the nose, past the pilot and co-pilot, turning over three times and coming to a stop 10 yards from the glider. When F/O Gene Kelly of Milwaukee, Wis., pilot, and Sgt Joseph A. DeSalvo of Cincinnati, Ohio, Co-pilot, were released from their inverted cockpit, where they were dangling upside down, they had only minor injuries.
Nine GI engineers and a shave tail, who became the unit commander when the CO was killed in a glider crash, went to work constructing the airstrip as soon as they landed. They dynamited the tree in the center, dragged off teakwood logs and crippled gliders with their equipment, filled in buffalo bogs and then-at 0600-began grading a strip on which the transport planes were to land that night. Five hours later they had a sizable strip ready for the Ai Commando Force's L-5 planes, sent in to ferry out injured US and British troops.
At 1900 hours, the engineers finished work on a much larger runway, to be used by the troop transport planes. Twenty-five minutes later the first one landed. The tired and hungry engineers-a cracker-and-jam lunch was their only food for 26 hours-watched the first 12 troop planes land. Then they bunked down on the ground for their first sleep in 38 hours.
The engineers were S/Sgt Raymond J. Bluthardt of Ogden, Kans.; Sgt Stanley J. Ryniec of Long Island City, NY; Sgt William W. Geider of Brooklyn, NY; Cpl Ralph R. Hammond of South Colton, NY; Cpl Walter J. Hybarger of Freeport, Ill.; Cpl Merling E. Sneed of Springfield, MO; PFC Raymond Hylton of Xlinton, VA; PFC Paul F. Johnson of Proctorville, Ohio, and Pvt Robert E. Wade of Houston, TX. Their CO was 2nd Lt Robert Bracket of Los Angeles, CA, a GI who went to OCS.
I was on the first troop transport to land on the second night of the airborne invasion of Burma. It was a Troop Carrier Command plane piloted by Brig. Gen. W. Donald Old of Uvalde, TX and was loaded with men and a famous British North Country regiment. An unexpected tail wind pushed us many miles beyond the enemy-held east bank of the Chindwin River before dusk, a half hour ahead of schedule. At the astral dome of our C-47, Sgt Richard H. Barlow of Jamestown, NY, the crew chief, kept a constant watch for enemy fighters, but none came up to intercept us.
Many of the English soldiers were veterans of Norway and Dunkerque. They didn't seem a bit worried, even thought they were flying in an unarmed and unescorted transport over enemy territory toward an invasion objective where they might be thrown into instant battle. Some read, others talked casually as they made last-minute checks on their Lee-Enfield rifles and Sten guns.
Since our take-off in India, a Lancashire steel worker in the next seat, Sgt F. W. Hutchison, had been reading a book. Just before we landed he finished it. I picked it up. It was Jeffrey Farnol's "Adam Penfeather, Buccaneer." The first sentence read: "The executioner adjusted his noose and spoke hoarsely in the doomed man's ear." I didn't read any further. For my money, that was one hell of a book to be reading en route to an invasion.
Our C-47 hit the strip shortly after dark and rolled to a stop on the grass runway almost as easily as it would have done on concrete. Electric guide lights on both side of the strip shone as brightly as if this were a Nebraska cornfield.
The airstrip's "control tower" was located in a glider parked near the south end of the runway. Two enlisted communications men, using a radio transmitter set up on the glider's right wing, directed traffic as the first transports came in. The GIs took their orders from Cochran's deputy, who had piloted one of the first gliders that landed the night before.
Squatting on the glider's wing the deputy gave radio instructions to four C-47s circling the field for a landing while another ship taxied out on the runway for a take-off. "Tower. Tower to the ships coming in," said the deputy. "The landing if from south to north. Wait for our green light before making your approach. Do you read me?" The first circling plane replied immediately. "7307 to tower. 7307 to tower. Roger." The other three planes gave similar radio replies.
"Give that on the runway the green light," the deputy ordered M/Sgt Otto Grunow, communications sergeant from Grand Junction, Mich. Grunow flashed the green blinker on his biscuit gun. The C-47 roared past our glider perch and took off toward the mountains to the south, headed back to India for another load of Wingate's invasion troops.
Less than three minutes later the four circling C-47s were parked at the north end of the strip. Battle-equipped English and Gurkha soldiers, leading pack mules, stepped out of the transport planes, lined up and marched in formation toward their nearby bivouac areas. No shots or signs of opposition came from the nearby woods-only the noisy chatter of jungle birds. We might have been on maneuvers.
In the temporary traffic lull, the deputy remarked: "Do you guys realize where we are? We're right in the middle of Jap territory causing a hell of a racket, and they're not doing anything about it."
"We're too damned busy to worry about it, air," Grunow said. "But if we told the folks back home that we were operating an airport 150 miles inside enemy lines, they'd call us liars>'
"Yeah, they would, agreed T/Sgt Alex McGregor, a radio operator from Chowchilla, CA. "But I'll bet we're doing more business tonight than they are a LaGuardia Field. With electric landing lights, radio ground control, homing assistance and everything else. And the Japs sill don't know it."
"They will," the deputy warned. "We'd better get some red flares up here just in case of a air raid. The Japs have a field less than 10 minutes flying time from here."
"Here comes another flight," he remarked, pointing to three red pinpoints high in the western sky. He picked up the microphone and Grinow switched on the radio transmitter.
"Tower. Tower to the planes approaching the field. Your landing is from south to north. Over." "Roger," came back the laconic reply.
The three C-47s moved into the traffic pattern, swung into their base leg and started to set down. They came in so close together that it seemed as if the rear planes would crash into the lead ship before it could taxi to its parking strip.
I clocked them as they came in. The second plane's wheels hit the runway just 32 seconds after the lead plane landed. The third plane sat down 36 seconds after the second plane.
That precision-timed traffic went on all night. On one occasion six planes were landed, unloaded and headed back to India in 20 minutes flat. From the India side, planes were taking off every two minutes for this airstrip, with 20 minutes intervals between each fight of six. The ferry service was as routine as the subway shuttle between Times Square and Grand Central Station in New York.
American sergeant-pilots operated an equally effective ferry service from the Burma end flying out British wounded in light planes, the first ones to land on the new strip the morning after the glider landings. After evacuating the first Allied casualties, the sergeant-pilots returned to carry out British and Gurkha soldiers who were wounded in later clashes with Jap ground forces.
The sergeant-pilots also flew daily reconnaissance patrols, spotting enemy movements and disrupting Jap pack-animal supply trains.
Jap ground forces attacked the airstrip several days after the airborne delivery of troops was completed. From then on, the sergeant-pilots made their landings and take-offs in the face of heavy Jap mortar and machine-gun fire. British patrols protected the Yank pilots during the loading of wounded soldiers onto the planes for mercy flights to hospitals in India.
The Japs established themselves at one end of the runway where an American plane was dispersed. They slashed the fabric with bayonets and punctured the gas tank with rifle fire.
Creeping through the trees to within 30 yards of the Jap positions, S/Sgt James Oliveto of new York City made a run for the dispersal area, jumped into the plane and taxied it back to the Allied stronghold at the other end of the field, aid a shower of Jap bullets. There was just enough gas left in the punctured tank for Oliveto to start the engine and keep going until he got back to the Allied area.
But Olivetto was not finished. He went back again, this time even closer to steal a spare wing tank lying in the dispersal area. With the tank, Olivetto, M/Sgt Howard Class of Gwynedd Valley, PA, and T/Sgt Fintain Maegerle of Tarrytown, NY were able to repair the plane so that it could be used to ferry out more Allied wounded.
The same night the first troop transports went into our airstrip, another fleet of Command gliders landed at a second point in enemy-held Burma several miles to the south. Sudden up and downdrafts over the mountains forced the gliders to sway and dip like flying surfboards Jap ack-ack guns opened up as the gliders passed over the Chindwin River, but all got through safely. F/C (now 2nd Lt) Jackie Coogan, onetime child star of the movies, piloted the first glider to land. His tow-plane pilot was Maj William T. Cherry Jr. of Quail, TX, who had also towed the first glider into the first field. Cherry piloted Capt. Eddie Rickenbacker's B-17 when it made a forced landing in the Central Pacific in 1942.
Coogan cut his glider loose from the tow plane at 1,000 feet, did a 360-degree turn and landed at 120 miles per hour on an unlighted field, covered with four-foot grass. While his load of Gurkha troops fanned out for security guard, he began setting out smudge pots to glide other gliders in.
All landed safely except one, which overshoot the field and crashed, killing the pilot and two GI engineers and destroying the engineering equipment it was carrying. Without the equipment, the other US aviation engineers were unable to start work on an airstrip that night. They were ordered to lie low and keep out of sight all the next day; there were fewer than 150 Gurkhas on hand to guard against any Jap thrust.
At sundown the next night the Gurkhas started cutting down the high grass with their Kurkri knives. They had cleared 12 acres of land when a glider coasted in at 2100 hours, bringing a piece of engineering equipment from India.
Shortly after, F/Os Billy Mohr of Portland, Oregon and Vernon Noland of Port Neches, TX, flew in with a glider from the first Burma strip, carrying another piece of equipment and Cpl Hybarger to operate it. Other gliders followed with two more pieces of machinery and a jeep. 
At 2115 hour, the aviation engineers under 1st Lt. Jerome Andrulonis of Shephard, PA went to work. There were just five men on hand to operate the four pieces of equipment, the odd man doubling as mechanic for the other four and as a chauffeur for the jeep, which raced around the field delivering messages or towing gliders off the runway. Exactly four hours after the engineers began work, they completed a 3,000 ft grass runway on which a C-47 set down at 0125 hours with British reinforcements.
Lt Andrulonis and his men-Sgt Joseph D. Walker of Richards, TX; Cpl Ronald J. Cain of South Lincolin, Mass; PFC Robert Bennett of Monroeton, PA and the lend lease Cpl Hybarger—worked all that night and the next day, leveling and grading the runway for the third night's operations. All their tools, except a screwdriver and a crescent wrench, had been destroyed in the glider crash, so equipment repairs took plenty of ingenuity. At 0500 hours, Bennett fell asleep while driving one of the machines that was towing another operated by Cain. Bennett woke up as his vehicle ran off the runway. Looking back, he saw Cain sprawled on the ground. Cain had dozed off, too, while standing up in his machine. Neither was hurt.
Three days after Coogan landed, the Jap bombers came over and ripped the strip to bits. But by this time it didn't matter much; all the British troops had moved out the night before, headed for a new objective, and the Americans had gone too, taking all their gliders and engineering equipment. All the Japs did was waste their bombs on what had been only a temporary landing strip for Wingate's Raiders.
On the one occasion when a serious counterattack was immiment, Cochran's fighters and bombers beat the Jap air force to the punch.
The Japs had concentrated more than 100 bombers and fighters at three adjoining Burma airfields for an attack on either the first Burma airstrip or Cochran's headquarters in India.
While dive-bombing one of the enemy's airfields in Burma on the fourth day of the invasion, in a routine attack to keep the Japs off balance, a fight of P-51s spotted several Jap planes parked below and followed through with a straffing attack setting fire to every enemy ship on the field. While the P-51s were engaged in straffing 12 Zeros attempting to come into the field were intercepted and tow of them were shot down by the four US top-cover planes, at the cost of one of our aircraft.
Returning from a bombing attack on another Jap airfield, a second flight of P-51s spotted about 90 enemy aircraft on the ground at Onbaul. Straffing the field and setting fire to Jap planes, they headed for home when their ammunition was exhausted. As soon as the P-51slanded, Cochran sent B-25s back. Using fragmentation and incendiary bombs, they left installations and planes on the field in flames.
One fifth of the known enemy air strength in the area was destroyed by that combined attack. The P-51s of the Air commando Forces accounted for 24 fighters, seven bombers and one transport, while the B-25s knocked out 12 fighters. 1st Lt Hubert L. Kruggs, a P-51 pilot from Fort Collins, Colo. Hung up high score for the day with five Jap planes destroyed on the ground. Two other fighter pilots, Capt Duke Phillips of San Antonio, Tex., and Capt Lester J. Murray of Fresno, CA, were credited with three Japs apiece.
Not until five days later were the Japs able to strike again, this time with 20 planes that strafed the first Burma strip. British Spitfires hopped them, shooting down five and forcing the others to break contact.
Cochran's Commandos went back into action again to help some British troops make a difficult river crossing. G/Os Jake Newland of Spokane, WA; Walter M. Steinke of Niagara, Wis.; Hadley Baldwin of Lisbon, N. Dak., and Troy Shaw of Hot Springs, Ark. Piloted their gliders onto a sand bar at 2330 hours and unloaded several flat-bottomed, motor-powered collapsible boats, with which the British crossed.
On their returned fight, towed by Capt. John N. Dehoney of Kansas City, MO, and 1st Lt Vincent L. Ulery of Newark, Ohio, the gliders brought back four Burmese traitors captured by the British forces, probably the first time prisoners of war have been transported that way.
Prize story and major mystery of the all-aerial Burma invasion concerns a Gurkha soldier who stepped where angels should fear to tread. He was in a glider 7,000 feet over the mountains when nature called. Invasion gliders have no facilities for such human fragilities but that didn't deter the Gurkha. He simply walked to the rear of the fuselage, stepped on the frail fabric that is the only flooring in that section of the glider and made his own facilities. The pilot, F/O Charles Turner of Palo Pinto, Tex., almost fainted when he saw the Gurkha standing there. The fabric ordinarily won't support a five-pound weight, let alone a Gurkha and his hobnailed boots. But it did; the footprints are there on the fabric to prove it.