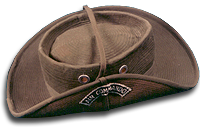 SAWC
1964 Pamphlet
1st Air Commando Wing
The 1964 Special Air Warfare Center (SAWC) put out a PR pamphlet called Special Air Warfare Center(SAWC)1964 "1st Air Commando Wing" Booklet
The 1964 Special Air Warfare Center put out a PR pamphlet called "First Air Commando Wing" which had a front cover in color showing a B-26 dropping ordnance. On the second to last page the magazine depicted the past commanders starting with Col Philip G. Cochran and followed by Benjamin H. King. The following is the write up for Col King:
"BENJAMIN H. KING--Colonel King, entered military service as an Aviation Cadet from Oklahoma City Feb. 28, 1942. He was commissioned Nov. 10 at Foster Field, Tex. During the period between commissioning and August 1948, Colonel King held varied assignments as fighter pilot, group commander and operations officer. The Colonel was a World War II "Ace" and also flew in Korea. Col. Ben King was the father of the 4400th Combat Crew Training Squadron and the 1st Air Commando Group."
This makes BG Benjamin King the modern era father of the USAF Air Commandos and Special Operations.
__________________________________________________________
USAF Biography
Brigadier General Benjamin H. King
Retired Jan 31 1971
Brigadier General Benjamin H. King was born in Addie Lee, OK in 1919. He received his high school education in Fayeteville, Ark. He entered aviation cadet training in February 1942 at Foster Field, Texas, and received his pilot wings and commission as a second lieutenant in November of the same year.
During World War II, he served in the Asiatic-Pacific and European-Middle Eastern theaters of operations as a pilot flying P-38s, P-39s and P-51s. He scored seven victories in air battle and logged 122 combat missions totaling 480 combat hours. During the Korean War, he destroyed two aircraft on the ground, flew 200 combat missions and accumulated 382 combat hours.
He graduated from the Army Command and General Staff School in February 1946 and from the Air Command and Staff School in June 1950.
From January 1957 until July 1959, General King was assigned as commander, 4750th Air Defense Group, and later as deputy commander and commander, 4750th Air Defense Wing at Vincent Air Force Base, AZ. He moved with the Wing to Macdill Air Force BASE, FL. In July 1960 he was reassigned as director, Joint BOMARC Test Staff, Detachment 1, Montgomery Air Defense Sector, Eglin Air Force Base, FL.
From May 1961 until March 1962, he served as commander, 4400th Combat Crew Training Squadron and 4400th CCT Group, Eglin Air Force Auxiliary Field #9, FL and in April 1962 he was assigned as commander, 1st Combat Applications Group, Eglin Air Force Base, FL.
General King was assigned in October 1963 as deputy director of the Secretary of Defense Advisory Research Project Agency Field Unit, Bangkok, Thailand. During this period he flew some 100 missions in Vietnam in T-28, C-47, L-28 and B-26 aircraft.
He returned to the United States in October 1964 and was assigned to the Aerospace Defense Command. He served as vice commander, Los Angeles Air Defense Sector, Norton Air Force Base, CA; as deputy for operations, 28th Air Division and the Fourth Air Force; and as vice commander, Fourth Air Force at Hamilton Air Force Base, CA.
In August 1967 he became command inspector general, Headquarters Aerospace Defense Command, ENT Air Force Base, CO, and in January 1969 he became director of aerospace safety, Office of the Deputy Inspector General for Inspection and Safety at Norton Air Force Base, CA.

General King was the director of aerospace safety, Office of the Deputy Inspector General for Inspection and Safety, Norton Air Force Base, CA. He retired from the USAF on January 31, 1971.
General King was an active fighter pilot and was qualified in the T-33 and the supersonic F-106 Delta Dart. He accumulated more than 6,000 hours of flying time including 1,146 combat hours logged in 400 missions. His decorations include the Silver Star, Legion of Merit, Distinguished Flying Cross with three oak leaf clusters, Air Medal with 24 oak leaf clusters, Purple Heart and the French Croix de Guerre.
__________________________________________________________
BG Benjamin King
WWII Army Air Corps Aerial ACE
By
American Fighter Ace Association
Benjamin Harold King was born in Add Lee, Oklahoma on 9 December 1919. Following a year at the University of Oklahoma, He enlisted in the Army Air Forces in late February 1942 and was appointed a flying cadet in May at Kelly Field, Texas. He completed flying training with Class 42-J at Foster Field, Texas and was commissioned a second lieutenant on 10 November.
In February 1943 Lieutenant King was assigned to the 339th Fighter Squadron, 347th Fighter Group, flying P-39s and P-38s. On 17 July, flying a P-38 named "Matilda" after his mother he downed two Zekes in a morning mission over Kahli and on 1 November destroyed another Zeke over Empress Augusta Bay. Following a rest tour in the States, he transferred to the 359th Fighter Group in European Theater of Operations flying P-51s a commander of the 368th Fighter Squadron.
On 11 September 1944 bear Blankenheim on an escort mission to Meseburg, the 359th encountered some 200 Luftwaffe fighters in a running dogfight ranging from Gissen to Eisleben. King shot down two FW-190s and the a Me-109 to become an ace( the fifth for the 359th). The following day, on an escort to Berlin, King scored his last victory, a Me-109 near Gransee. Rotating back home again, he finished the war as a deputy director at Santa Maria, California.
King remained in the post-war Air Force and received his regular commission as a captain in June 1947. In September 1950 he went to Korea to command the 8th Fighter Bomber Squadron at Taegu, flying 226 missions in the P-51 and F-80. In 1961 he formed the Air Commandos at Hurlburt Field, Florida and was their commander for the next three years, flying combat missions in Vietnam in the C-47, T-28 and A-1E. Promoted to brigadier general in 1966 he served as deputy Inspector General for Safety before he retired in January 1971.
Tally Record: 7 Confirmed
Decorations: Silver Star, Distinguished Flying Cross with one Oak Leaf Cluster, and Air Medal with 11 Oak Leaf Clusters.
From the American Fighter Aces Museum Foundation, Inc, PO Box 2020, San Antonio, TX Tel 210-354-2322, Fax 0575 San Antonio, TX