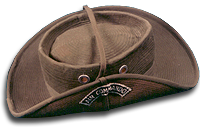 Flt Lt Garry Cooper
FAC Tamale 35
CMOH Nomination by General Ewell August, 1968
This is the story of Flight Lieutenant Garry G. Cooper(Royal Australian Air Force assigned as a Forward Air Controller (FAC) with the USAF 19th TASS-call sign Tamale 35) who was cited by M/Gen Julian J. Ewell on 18 Aug, 1968 with a Congressional Medal of Honor as a FAC at Cai Be(near Rach Kien), Vietnam in support of the 3rd Brigade, 9th Infantry Division-MOH data below. He was riding in the command helicopter, a Raven OH-23, with the Brigade Commander Col Robert E. Archer, as the ALO directing 12TFW F-4 strikes against the VC attacking the Brigade. The pilot was hit and killed and the Brigade Commander was wounded. Lieutenant Cooper cut the aircraft power on contact with the ground and carried the wounded Brigade Commander from the aircraft and had to spend that night in no-man's land. In the process of keeping himself and the Colonel alive he killed 10 VCs until his ammo ran out. A helicopter came in the next day and picked up the two and before Lieutenant Cooper could come aboard he had to kill two more VC before he leaped in the helicopter.
Communication data on Gen Ewell and Garry Cooper are shown below. The guy was a legend in Vietnam and was in the chain of USAF command as a FAC directing air strikes of all US air resources in the area. He was directly under the control of USAF forces and they even wrote his oer. Maybe you can help out our cause in getting him a MOH because there were other foreigners who got it. Rascon in 1966 was a Mexican cxitizen and was written up for a MOH. Clinton gave it to him in Feb., 2000.
If there is anyone who has first hand knowledge of the firefight that day and the downing of the helicopter and Lieutenant Cooper saving the Brigade Commander please let me know. The name of the helicopter pilot is unknown and if anyone remembers who it was please contact me. If any of the F-4 pilots that day saw any of this action please contact me.
Gary Cooper did not get the Congressional Medal of Honor because he is not a US citizen. The Australian Government administrative procedures has prevented him from getting the Victorian Cross-their equivalent to the MOH. I am working trying to get Lieutenant Cooper recognized for this incident.
If you care to help us by using this material we will be most grateful. General Ewell is in Washington and is still interested in helping Garry get the MOH. Let me know what you think and we will provide whatever you want. 
Lt Gen Gen Julian J. Ewell
9024 Belvoirwoods Parkway
Ft Belvoir, VA 22060
Commander 9th Inf Div
Tel 703-781-3904
Flt Lt Garry G. Cooper
PO Box 420
Alstonville, NSW 2477, Australia
Tel 02-662-98147, Fax 02-662-98146, e-mail tamale@nor.com.au
Gene Rossel
ACA Public Relations officer
Tel 909-930-5700 work, 909-591-7342 home
mailto:aircommando1@earthlink.net
______________________________________________________________________________
006155
Department of the Army
Headquarters 9th Infantry Division
APO San Francisco 96370
20 August 1968
AVDE-CG
Thru Commanding General
7th USAF
Bien Hoa
APO 96307
To Lieutenant Colonel James T. Patrick, USAF
Commanding Officer
19th Tactical Support Squadron
Bien Hoa
APO 96227
Dear Colonel Patrick
I recommend the immediate award of the CONGRESSIONAL MEDAL OF HONOR to Flight Lieutenant Gary G. Cooper, 0219964, Royal Australian Air Force, one of the men in your command serving with the Ninth Division.
Throughout his service as a FAC he has made himself a legend and is highly respected by all my officers. The narrative description of his gallant actions on 18 August 1968 is attached. Although untrained in ground combat he displayed great coolness and heroism under completely overwhelming odds and saved one of my most valuable Brigade Commanders. His actions would have been highly commendable even if carried out by a veteran in ground combat.
Air Force regulations do not permit me to make an award so I strongly recommend the highest recognition.
With warm regards,
Sincerely,
Julian J. Ewell Major General, USA
Commanding
______________________________________________________________________________ 006155
NARRATIVE
Flight Lieutenant Gary G. Cooper, 0219964, distinguished himself by gallantry in action against hostile forces as a forward air controller near Cai Be, Republic of Vietnam on 18 August 1968. Late in the afternoon Flight Lieutenant Cooper was flying as Air Liaison Officer of the Command Helicopter with its pilot and Brigade Commander. They were flying at 200 feet between the friendly and hostile forces. The helicopter was taking numerous hits from the intense automatic weapons fire but it was imperative that they continue directing operations from this position as the friendly forces were pinned down and taking heavy casualties. After thirty minutes under heavy, fire the pilot was shot dead at 200 feet and the helicopter dived toward the ground at tremendous speed. The Brigade Commander had been hit in the back of the neck with the same bullet that disintegrated the pilot's head and ricocheted off Cooper's helmet stunning him. Although dazed and covered in blood and brain tissue, Cooper managed to reach across for the controls, overpower the dead pilot and reduce what would have been a fatal impact with the ground. The crash was in open rice paddy country only 200 meters in front of the enemy lines and the helicopter became the primary target for their fire. Friendly troops could hear the automatic weapons fire slamming into the wreckage while Cooper, although finding it difficult to move due to a back injury, assisted the Colonel to a near-by dyke. Here they set up a defensive position as they could move no further and the friendly forces were not in a position to help. They were waist deep in water and throughout the night the enemy made several attempts to creep along the dykes to their position. Each time Cooper managed to ward off the attack and killed at least ten of the enemy at close range. By morning the situation had eased due to constant air strikes on the enemy positions and a pickup helicopter was called for. Weapons fire was again heavy during the pickup and the helicopter had to move away making it necessary for the Colonel and Cooper to run in the open to board it. Now out of ammunition, as Cooper had been covering the Colonel while he was hoisted aboard, he was attacked by two of the enemy who he killed with his empty hand -gun before leaping into the helicopter. Flight Lieutenant Cooper's outstanding gallantry, professionalism and complete devotion to duty have reflected great credit upon himself and the Free World Military Forces.
______________________________________________________________________________Department of the Air Force
Headquarters 12 Tactical Fighter Wing(PACAF)
APO San Francisco 96326
From DCO 19 August 1968
Subj. Recommendation for award
To Deputy Director III DASC APO 96227
1. Only two days ago we forwarded a Commendation of Forward Air Controller on Tamale 35. Another was sent on 18 July 1968. It is therefore with an even greater regret that the 12thTFW witness this outstanding Forward Air Controller crash during combat.
2. This statement is written so that the valorous actions of Tamale 35, Capt Gary Cooper of the Australian Air Force, on 18 August 1968 will not go unrewarded.
3. On that date two of my F-4 pilots were working with Tamale 35 on a heavily defended target at Cai Be, near Rach Kein, when Captain Cooper's helicopter crashed very close to the hostile position. Without FAC direction, the F-4 pilots could not provide close air support and circled helplessly.
4. When last seen, Tamale 35, distinctive by his Australian flight-suit, was half carrying an infantryman towards an embankment under what must have been highly hazardous conditions. The situation as viewed did not appear survivable.
5. We of the 12thTFW sincerely hope that Tamale 35 will soon return to provide us with his exceptional Forward Air Controlling.
James H. Hoag Jr., Colonel, USAF
Deputy Commander for Operations
______________________________________________________________________________
1st Ind to 12th Tac Ft Wg (DCO) Ltr, 19 Aug 68, Commendation of Forward Air Controller
DAF, Direct Air Support Center, III Corps 27 August 1968
To ALO II FFV
ALO 9th US Inf Division
1. Tamale 35 has done it again and has continued to uphold the excellent reputation for outstanding professionalism achieved by RAAF Exchange Officer in the ALO/FAC System. It is quite clear that Flight Lieutenant Cooper is consistently doing an outstanding job under difficult and demanding conditions. Such performance has made a positive and direct contribution to the success of the Free World Military Assistance Forces with the Republic of Vietnam.
2. Please convey my personal appreciation to Tamale 35 for aa job well done.
Devere K. Wright, Colonel, USAF
Assistant Deputy Director
2nd Ind 30 Aug 68
DAF, ALO II FFV 
To ALO 9th Inf Div
1. From the onset of his assignment as a Forward Air Controller with your unit, Flight Lieutenant Cooper has measured up to, and surpassed, the extremely commendable professional reputation established by RAAF FAC's in III Corps.
2. It is with pleasure that I add my personal appreciation and congratulations to Flight Lieutenant Cooper. He is a credit to himself, his military branch of service, and his country.
Thomas P. Garvin, Lt Colonel, USAF
ALO II FFV
3rd Ind 8 Sept 68
DAF, ALO, 9th Inf Div
To ALO, 3rd Bde, 9th Inf Div
1. Flight Lieutenant Cooper assuredly deserves the commendation of the F-4 pilots. I have heard nothing but praise for his actions as a Forward Air Controller. His professionalism is a credit to himself, the RAAF and the Free World Forces.
2. Please extend my congratulations to Flight Lieutenant Cooper for a job well done.
Frank J. Gately, JR., Lt Col, USAF
ALO, 9th Inf Div
_____________________________________________________________________________________
Daily Log of the Hq 9th Infantry Div, APO San Francisco 96370
Name Cooper
Date 18 Aug 68
Duty ALO
Time 0500
Remarks RPT, MRF Pad Col Archer Can Giuoc, Rach Kien, Cai Be, Saigon
______________________________________________________________________________
BIOGRAPHICAL SKETCH OF FLIGHT LIEUTENANT GARRY G.COOPER
Flight Lieutenant Garry G. Cooper was born in Adelaide, South Australia on 21 January 1938. After completing secondary education in 1954 he worked for three years with the Royal Aero Club of South Australia as an aero mechanic. At the same time he was learning to fly and gained his Commercial Pilot License at the age of 19 years. He flew for the Flying Doctor Service for a short time before taking up a flying position with the Gibbes Sepik Airways in New Guinea in 1957. He accumulated 3500 hours on light and medium aircraft in New Guinea before joining the Royal Australian air Force in early 1960. On graduating as top officer pilot in 1961 he went, in turn, to the following assignments
School of Air Navigation-Staff Pilot C47
RAAF Antarctic Flight-Aerial Survey Seaplanes
77 Squadron, Malaysia-Fighter Pilot F86
79 Squadron, Thailand-Fighter Pilot F86
75 Squadron, Australia-Fighter Pilot Mirage
76 Squadron, Australia-Fighter Pilot Mirage
Flight Lieutenant Cooper arrived in Vietnam on 8 April 1968 and was assigned with the 1st Brigade, 9th Infantry Division. 
Aircraft he has flown in his military and civilian career(23,000 hours +) are as follows
Military
F-86
Canberra
OV-10
Mirage
Winjeel
Vampire
C-47
Civilian
Boeing 767
Boeing 747
Lockheed L-1011
Boeing 707
Boeing 737
Convair 880
Owns Spitfire MK XIV,
RAF # RM 797, SN EB-E, EB is the 41 SQ RAF and E is the Aircraft Code. Found it in Surin, Thailand while riding an elephant and saw it in someone's back yard. Later went back and bought and had it shipped to Australia through trucking it to Malaysia and then a Australia C-130 transporting it to Australia.
______________________________________________________________________________
Flight Lieutenant Garry G. Cooper RAAF - 0219964 Combat Tally
Flight Lieutenant Cooper was attached to the 7th Air Force, USAF, Saigon on 08 April 1968. He was then assigned to the 19th Tactical Air Support Squadron as a Forward Air Controller with the 3rd Brigade, 9th Infantry Division. He had full US authority in directing USAF fighter squadrons and US Army Units, flew USAF registered aircraft, and did not come under any form of Australian administration except for salary which he found hard to receive due to his position with the US forces. That is, once with the 7th Air Force, he did not exist as far as the RAAF was concerned.
His combat service was most impressive and culminated in the recommendation for the Congressional Medal of Honor. A brief record of his saving of US lives follows.
1. 25 April 1968 saved a US Company who were pinned down by enemy forces.
2. 29 April 1968 killed three enemy with artillery.
3. 01 May 1968 saved US lives with air strikes.
4. 05 May 1968 prevented Binh Phuoc army base being over-run by enemy forces saving numerous US lives. Statement available.
5. 06 May 1968 killed twenty enemy soldiers whilst protecting Company B, 3rd Bn, 39th Inf who were pinned down in open rice paddies. Statement available.
6. 07 May 1968 killed eighteen enemy with air strikes whilst assisting a Company of the 5th Bn, 60th Inf.
7. 10 May 1968 credited with killing 230 enemy and saving A and C Companies, 5th Bn, 60th Inf who were ambushed and taking heavy casualties. Statement available.
8. 11 May 1968 saved numerous US lives with accurate bombing around the "Y" Bridge in Saigon during the second Tet Offensive. On this occasion his aircraft received sever battle damage. Statement available.
9. 12 May 1968 saved a Company size unit of 9th Inf Div killing 58 enemy with air strikes.
10. 13 May 1968 killed 11 enemy soldiers close to a US Army base.
11. 16 May 1868 saved US lives of a unit pinned down by the enemy with air strikes at night.
12. 17 May 1968, continuation of 11. above.
13. 21 May 1968 located and killed six enemy with air strikes. On this occasion Cooper received a wound to the hand and damage to his aircraft.
14. 22 May 1968 protected and assisted a US Company engaged with the enemy.
15. 23 May 1968 located 100 VC and killed 12 with air strikes.
16. 31 May 1968 engaged VC in bunkers with air strikes removing a threat to US lives.
17. 01 June 1968 as with 16 above. No body count available.
18. 06 June 1968 engaged with artillery and air strikes, a large VC force massing east of Bihn Phuoc Army Base. Credited with killing four enemy and an estimated 400 buried in tunnels as stated by a detainee. This prevented the attack on Bihn Phuoc saving numerous US lives.
19. 10 June 1968 engaged with air strikes, an estimated force of 500 VC in bunkers.
20. 18 June 1968 killed 28 enemy of a large VC force massing to the west of Tan An, 9th Inf Div HG, with air strikes. This was to be an all out attack by the enemy on HQs but was totally thwarted by Cooper saving countless US lives. Statement available.
21. 19 June 1968 was a follow up to 20. above killing a further 18 enemy.
22. 20 June 1968 assisted a US Company saving US lives.
23. 28 June 1968 engaged a large force of VC west of My Tho killing 11 enemy with air strikes receiving sever damaged to his aircraft but continuing with the engagement until area was secured. Statement available.
24. 02 July 1968 shadowed enemy company making its way toward a US outpost engaging them and killing 15 with air strikes.
25. 07 July 1968 located enemy close to Dong Tam HQ killing three with artillery.
26. 09 July 1968 assisted with troops in contact at night who were pinned down by the enemy removing the threat with air strikes.
27. 11 July 1968 located enemy near a support base killing four with artillery.
28. 12 July 1968 saved numerous US lives of the 3rd Bde, 9th Inf Div with air strikes and artillery west of Cai Lay killing 12 VC. Statement available.
29. 14 July 1968 saved US lives with air strikes and artillery against the enemy.
30. 15 August 1968 located and killed six VC in sampans near Dong Tam and protected a US Company with artillery engaged with the enemy.
31. 16 August 1968 assisted a US Company with air strikes.
32. 18 August 1968 saved Colonel Robert E. Archer, Commander 2nd Bde, 9th Inf Div after their helicopter was shot down and killed 12 enemy in ground engagement. Statement available.
33. 24 September 1968 protected a US Company at night with air strikes and artillery.
34. 27 September 1968 assisted troops in contact pinned down by the enemy with air strikes.
35. 29 September 1968 as with 34 above saving US lives.
36. 03 October 1968 killed 30 VC with air strikes protecting troops in contact.
37. 04 October 1968 killed 139 enemy with air strikes removing a considerable threat to US lives. Statement available.
38. 21 October 1968 supported a US Company pinned down by enemy action with air strikes saving US lives.
Flight Lieutenant Cooper's final analysis against the enemy was-
Enemy Killed - 1034 
Bridges destroyed - 7
Sampans destroyed - 153
Structures destroyed - 316
Bunkers destroyed - 769
Air strikes by day - 293
Air strikes by night - 37
Troops in contact support - 97
This impressive analysis removed a huge ability for the enemy to wage war against friendly troops thus indirectly saving numerous US lives.
During his tour in Vietnam Cooper came totally under US control and jurisdiction, had nothing to do with the RAAF, and was considered a member of the US Forces, except for salary.
As all documentation on Cooper was US administrated, the RAAF had little record of his service and this is one reason why the Australians could not process their highest award to him. Under the circumstances it would be a great travesty of justice for the US not to recognize Cooper's service to the US in saving so many of its' nations lives which could run into thousands. The saving of US lives was conducted at great risk to his own life.
There have been many instances where the Medal of Honor has been awarded to foreign nations. The only difference between them and Cooper is that they were sworn into the US Forces. This is only a small difference to Cooper's situation and should not be used as a barrier to having this man's gallant service to the US and its' people appropriately recognized by the US Government.