Air Commando Chronicles
Col. Bob Gleason Bio
Email: RLGleason22@aol.com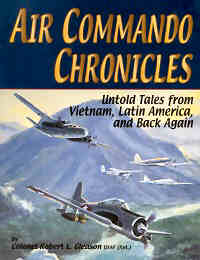 Air Force Colonel Robert L. Gleason entered the U.S. Army Air Corps pilot training program in 1942. After graduation, he was assigned to the 4th Combat Cargo Group and transferred to the China-Burma-India theater for the duration of World War II were he flew in support of the British campaigns in China and Burma, including many trips over "The Hump." During the cold war, Gleason was assigned to the Strategic Air Command (SAC) where he served as a B-29 and B-47 Aircraft Commander. In 1955, he was transferred to the Headquarters of that organization.
After his tour with SAC, Gleason attended the Air War College and following graduation, he was retained on the War College faculty. While in this assignment, he was recruited for the 4400th Combat Crew Training Squadron (JUNGLE JIM).
Gleason was the initial Operations Officer of the JUNGLE JIM organization. Later he was the Operations Officer and subsequently the Commander of the FARM GATE Detachment of that organization, which deployed to Vietnam in the fall of 1961.
Upon returning to the Zone of the Interior (ZI), Gleason was assigned to Panama as the Commander of the newly formed 605th Air Commando Squadron. This unit was later expanded to a Group. After his Latin America tour, Gleason was assigned as Chief, Special Warfare Branch, HQ USAF. After completing his Pentagon tour, he returned to Vietnam as Deputy Chief, MACV Studies and Observations Group (MACVSOG). Following this tour, he joined a special study group, which operated under the direct guidance of the Vice Chief of Staff, USAF, whose mission was to document and evaluate the Air Force's role in Vietnam. Gleason completed his Air Force career as director of this project and retired in August of 1973.
Gleason was awarded over 25 U.S. and foreign government military decorations. He has earned the wings of a USAF Command Pilot, Navigator/Bombardier, Radar Operator, and Para-Jumper.
Gleason has a Bachelor's degree from Troy State University, Troy, Alabama, and a Master's degree in Public Administration from Auburn University, Alabama.