Air Commando Chronicles
Acknowledgments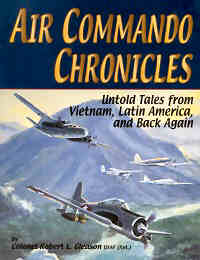 by
Col. Bob Gleason
Email: RLGleason22@aol.com
Perhaps the most complete list of contributors to this work are my fellow "comrades in arms," who constitute the main characters of these tales. There are, however, several individuals without whose assistance and encouragement I would not have undertaken this project.
Foremost among these is Eugene D. Rossel. Almost every military unit has someone whom I refer to as a thread-saver, a person who officially or unofficially takes it upon himself to save orders, records, histories, etc. Such a person provides the grist of which histories are made. Gene is that type individual. His files provided much of the supporting data for the material contained herein. When I ran into a problem involving names, dates, etc., Gene could usually run down the facts either from his files or through his contacts as web master of the Air Commando home page.
Dr. Robert F. Futrell, formerly of the Air University, Maxwell Air Force Base, Alabama, ,both challenged and supported me in this effort.
Brigadier General Benjamin H. King's assistance was invaluable, and he recorded several hours of intriguing narrative and colorful commentary. In fact, a good part of this book could be titled "The Ben King Story."
Lieutenant General William P. "Bill" Yarborough also supported this project via written communications and by providing some of his "heirloom" photographs.
A special note of gratitude is expressed to General John L. Piotrowski, who not only played a key role in the saga of the early Commandos but also provided considerable material regarding many of the anecdotes. I feel very privileged that General Piotrowski agreed to write the Introduction to this book.
Much interviewing was done via telephone with many old Commandos such as John Conners and Master Sergeant George McNamara, but also with non-Commandos such as Dr. Adam Yarmolinski and Colonel Van Parker.
A special thanks goes to Morgan Smith, an "honorary" Air Commando who reviewed the chapter on the Tropic Survival School and added anecdotes that I had forgotten with the passage of time.
A great number of old Commandos provided me with their personal photographs. Foremost among these was Harry Bishop, who ran the photo shop in the 605th Air Commando Group in Panama, Ed Bolling, who was chief of our Ground Power section, and Ron Phillips, an TF-28 pilot. I also thank Colonel Charles W. "Charlie" Brown and Colonel Jimmie H. Butler for their excellent portrayals of "life on the trail." Thanks also to Gene Rossel, General Piotrowski, Major General Bill Cohen, and Brigadier General Ben King for their review of an early version of the manuscript and their many helpful suggestions emanating therefrom.
Last, but far from least, was the contribution of Richard Creed, who did the editorial processing of the draft manuscript. His many grammatical corrections, as well as his candid suggestions on structure and organization, substantially improved the final product.
* * *