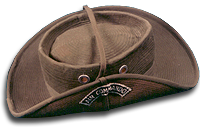 The Australian Monument to B-17C 40-2072
Needs Funds for 60th Anniversary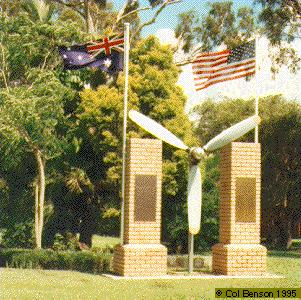 The Australian Monument to B-17C 40-2072 and the 40 Men who perished on 14 June 1943
The painting of a B-17C (38 were built, 20 went to the British and 18 to the USAAF) flown by Capt Colin P. Kelly of WWII fame being attacked by a Japanese fighter is in the memory of most Americans who lived through WWII. He never survived that attack and all Americans knew of his fate. About two years later another surviving and battled damaged B-17C (40-2072), from the same Squadron as Colin Kelly, crashed near Mackay Australia at a place called Baker's Creek and 40 of the 41 R&R troops returning to New Guinea on board were killed. There is no record in the US Government, USAF, and USA etc, which acknowledges the worst military aviation accident in WWII and the worst in Australia now and then. These men came from 23 different states and were both ground and aircrew troops. The Australians remembered our warriors and in 1992 the Returned and Services League (RSL-equivalent to our American Legion and VFW) built a monument to these American Warriors. This monument has grown with time as a result of the Australians recruiting troops from our visiting USN ships in the port of MacKay to participate in their annual memorial service. Then along came the Internet and they recruited people like myself to help spread the word and to visit the memorial. To see more of "The Forgotten B-17C" go to
http//home.earthlink.net/~aircommando1/forgottenb17.htm. The 60th Anniversary of this disaster is on 14 June 2003. A number of USAF retirees like myself have formed an organization called Baker's Creek Memorial Association (BCMA) to help promote what the Australians did for our forgotten warriors.
The BCMA has started a drive to collect money to help the Australian in developing this site, for roadside and memorial signs, flag poles and flags for all the 23 states that sacrificed a son that day, upkeep, library for the school on B-17 information, and other US military aircraft used in WWII that were in Australia, and a Australian high school program to keep the memorial alive. You can send donations to the 5th Air Force Memorial Foundation %BCMA, 5315 Saint Joseph Ave, Stevensville, MI 49127-1081. The Foundation is a 501©(9) under the IRS Code. They are a foundation, which has agreed to collect the donations for the BCMA because of their charter and Government oversight, and the aircraft bonged to the 5th AF. To contact the foundation call 269-429-9806.
May we have peace in the world and every one of you enjoy prosperity and good health for the coming year.
Eugene D. Rossel
BCMA PR Officer
B-17C Tail Number 40-2072 Story